Join CDS
How CDS, USDF, USEF Memberships Work Together
When you join CDS for $75, CDS automatically takes $24 of that money and sends it to USDF to sign you up as a Group Member of USDF.  CDS is required to do this for all of its members.  This Group Membership with USDF entitles you to a Group Member number to enter shows, earn Rider Awards, and receive a subscription to USDF Connection, the official USDF Magazine.  USDF Group Memberships run from December 1 to November 30.  Joining CDS can save you $90 if you do not need a USDF Participating Membership for Regional Finals or Horse or Breed Awards.
CDS memberships run from December to December.  If joining after October 1, your membership will include the following year.
If you joined CDS and do not receive your USDF GMO card in time for a show, you may go online and print out a membership verification at usdf.org.
If you wish to compete in the USDF Horse of the Year Awards, Breed Awards or USDF/Great American Championship, you must join USDF as a Participating Member and register your horse.  Participating memberships run from December 1 to November 30.
USEF does not have any reciprocal membership arrangement with CDS.  In order to avoid the $45 non-member fees at USEF Shows you must join USEF.  This entitles you to a copy of the current rule book for your discipline and monthly digital issues of Equestrian Magazine.  If you wish to qualify and compete for the USDF/Great American Regional Championship you will also have to record your horse with USEF and USDF.
All of these membership requirements apply to the rider and the owner of the horse.
California Dressage Society
The California Dressage Society  is an organization whose purpose is to foster an interest among horsemen in Dressage. The program of the Society is educational, designed primarily to offer a framework in which individuals can progress with the schooling of themselves and their horses.
CDS is an opportunity – to share, to experience, to learn and to contribute.
What does it Cost? $75 per year
Why should I join? No, or low, cost access to special East Bay hosted educational, recreational, and social events plus seminars and clinics!  We sponsor East Bay Show Awards, recognition programs and membership appreciation events!  Plus CDS benefits and much more!
As a member of CDS, you also become a Group member of USDF, the only national organization devoted exclusively to dressage. All CDS memberships go from December to December. Anyone joining after October 1 will be a member for the following year.
How to join? Register and pay for your membership online at the CDS Central website. Remember to specify your Chapter Preference – East Bay!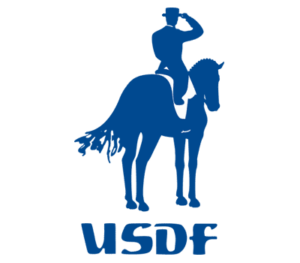 United States Equestrian Federation
United States Equestrian Federation is dedicated to uniting the equestrian community, honoring achievement, and serving as guardians of equestrian sport. Since its inception in 1917, the Federation has been dedicated to pursuing excellence and promoting growth, all while providing and maintaining a safe and level playing field for both its equine and human athletes.
The USEF trains, selects, and funds our United States Equestrian Team which consistently wins medals at the highest level of international competition, including the Olympic Games. The USEF also licenses equestrian competitions of all levels across the United States each year.
How to join? Register and pay for your membership online.